Carbon Credits NFT Marketplace Development
We are the best Carbon Credits NFT Marketplace Development Company offers top-notch marketplace development solutions to trade Co2 as NFT.
Carbon Credits
NFT Marketplace

Development Company

Nowadays, Carbon credits are an alluring topic in the NFT marketplace. Carbon credit denotes a specific amount of carbon dioxide or other greenhouse gasses that is assigned to the company to emit. The unused carbon credits can be traded, sold, and stored in the company emitting fewer tonnes of Co2 than the permitted amount.

Further, we will see what are the things you need to look for in the Carbon credits NFT Marketplace Development and where you can get a top-notch Carbon Credit NFT Marketplace Development Service for your business in the upcoming sections.
Unique Features to
Build

an Our Robust

Carbon Credit

NFT Marketplace

Advanced Search Calibrator
With this inclusion of an advanced search calibrator, traders can directly search for the NFTs that they want to buy.

Listing the NFTs
With this feature, you can list and position the NFTs. The total NFTs listed on the marketplace will be positioned with the trading volume and the number of owners to trade

Auction gateway
With the incorporation of the auction gateway, traders can make it easier to sell NFTs with the acceptance of bids.
Storefront
The storefront function serves as a connection between purchasers and the list of NFTs shown on the marketplace.

Staking
The integration of the NFT staking option will be the added value. NFT holders can stake their NFTs to get rewards based on the time duration they have been staked

Crypto Wallet
The cryptocurrencies required for trading are kept in a crypto wallet with the NFTs the user buys and sells.
Benefits of Launching
Carbon Credits

NFT

Marketplace

Platform

Security Tokenizer is the top-notch Carbon Credits NFT Marketplace Development Company around the world such as in the United States, Spain, Italy, Turkey, Poland, Vietnam, United Kingdom, Nigeria, Germany, France, etc. We provide many benefits to our users in our Carbon Credits NFT Marketplace Development Services, such as followed below:
---

Enhanced Liquidity

High Rate of Investment

Easy to transfer

High Security

NFTs easily trade on various blockchains

Cost-effective

Time-saving

User-friendly and many more
What are
Carbon

Credits?

A carbon credit is a certain amount of greenhouse gases or carbon dioxide that are reduced or removed from the environment in order for the company to emit them. A carbon credit is most often called a carbon offset. One carbon credit equals one ton of CO2 and greenhouse gas emissions. If a company emits less carbon dioxide than the limit, it can sell, buy, or trade carbon credits. There are two types of carbon offsets: compliance credits and voluntary credits
What is
Carbon

Offset?

A carbon offset is a procedure for decreasing CO2 emissions implemented by companies or individuals. In this case, the equality of CO2 emissions in one location aids in the reduction of emissions in another. The credits are called offsets, and offset is most important in controlling a corporate social responsibility (CSR) score
How Does Our Carbon Credit NFT Marketplace
Development Work?
Security Tokenizer is the best carbon credits NFT marketplace development company in the world. The following is a step to work with our Carbon Credits NFT Marketplace Development Platform
Create an Account
Our decentralized platform helps to create your profile.
Integration of the Wallet
After creating an account, connect your wallet to your profile. You can store your NFTs and other assets in your profile. Our platform helps you to secure Your profile information.
Listing Token
Our decentralized platform helps you make your sale easily. Following the integration of your wallet, you can sell your carbon credits as NFTs.
Purchase and Auction
You can buy and bid on your listed carbon credits on our NFT Marketplace platform. Our decentralized platform is easily accessible to users.
Track the Value
In our NFT Marketplace, the platform helps users with easy and quick transactions, and the users can easily track their NFTs. Users can learn about their market value.
Pricing Mechanism of Carbon
Carbon pricing can take many different forms. The following are the most common and important types of carbon pricing mechanisms
Crediting Mechanism
Carbon Tax
Internal Carbon Pricing
Emissions Trading System
Workflow of NFT Marketplace for Carbon Credits
Now, you have some idea about the NFT marketplace for carbon credits and you should know the basic workflow of the Carbon credit NFT marketplace
Here is the basic workflow you must know,

Register and create your account on the decentralized platform

Add a secure wallet to your user profile to keep your NFTs and other valuables safe.

You may now post your carbon credits for sale as NFTs in a decentralized marketplace.

Users can purchase and submit bids for the available carbon credits on the NFT marketplace.

The users will be able to monitor their NFTs and have a dynamic understanding of their market value.
What is the Process of NFT Marketplace
Development for Carbon Credits?
Services that come under the Carbon Credit NFT Marketplace Development are mentioned below
NFT minting platform development for carbon credits - This platform will let companies and traders create, mint, and list their own carbon credit tokens
Exchange development platform for carbon credits - Create a sports carbon credit exchange that enables traders to quickly transact with anyone across the world.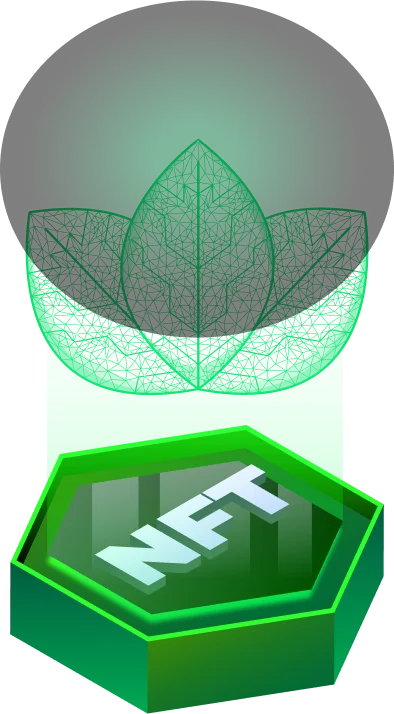 NFT marketplace development for carbon credits - Development of a unique open-source peer-to-peer NFT marketplace to advertise, purchase, and trade carbon credits.
Carbon credits token creation - Increase the liquidity of the carbon offset credits by tokenizing them using NFTs.
These are the services given in the carbon credit NFT marketplace development for business entrepreneurs.
Now, let us see the features to be included to arrive at an impeccable Carbon credit NFT marketplace
Where Can You Get Apt Carbon Credits NFT Marketplace Development Services?
Security tokenizer is the prominent Carbon credit NFT Marketplace Development Company that provides the best NFT marketplace services for the Carbon credit platform. We employ modern development methodologies to provide the finest solution. Our skilled developers will assist you with what you are looking for to launch the NFT marketplace for Carbon credits. Some valuable benefits that you can get with our Carbon credit NFT marketplace development are as follows

Advanced Blockchain Technology
Our experts have proper research knowledge in advanced blockchain technology to fulfill your business needs.

Whitelabel Solutions
With our Whitelabel solutions, building a feature-rich Carbon credit NFT marketplace with new standards will be just a piece of cake.

Knowledgeable Developers and Experts
We have a team of knowledgeable and talented blockchain specialists who are thoroughly familiar with various blockchain protocols and NFT standards.

Fast and Agile Development Process
Our team uses advanced development methodology to deliver continually tested NFTs on schedule.

100% Quality
We deliver the project on time with 100% quality and customer satisfaction.

24 hours Customer Support
We will give 24/7 support and assist you until the project completion.
From these points, you would have understood why you can approach us to get a comprehensive Carbon Credit NFT Marketplace Development Service. So, if you are planning to build your Carbon Credit NFT marketplace within your budget, kindly contact our experts and schedule your time!!
Launch your Carbon Credit NFT Marketplace Instantly!